TIMES JOGJA, BALI – ARTOTEL Sanur-Bali collaborated with RAD Art, an artist from Indonesia held a solo art exhibition with the theme My Nature Diary Part 1. RAD stands for Ratih Astria Dewi or well known as Treya, a fine student of the State Art Universities in Indonesia.
This lady which was born on June 1, 1989, at East Kalimantan also active in visual art exhibitions, performance art, and women's organizations in Solo. She is also one of the students of I Gusti Nengah Nurata. She doesn't focus on one style of art, she tends to just draw anything that came up in her mind.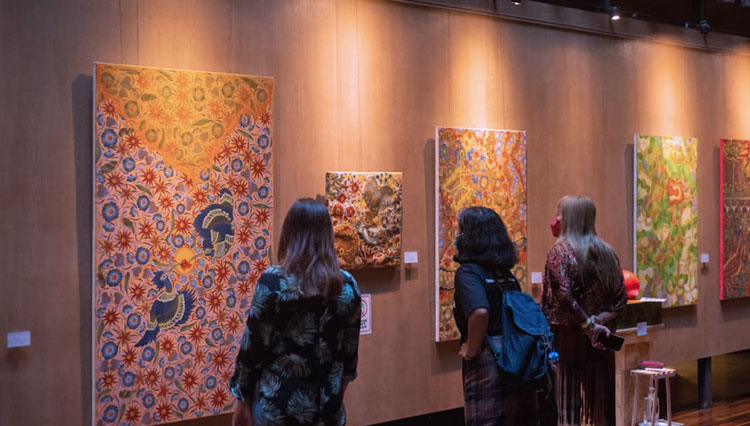 This unique characteristic of her painting has made ARTOTEL Sanur take a deep look on her works. Located 25 minutes' drive from the International Airport of Ngurah Rai and 3 minutes' walk from the beach, this hotel trying to bring this positive vibe into their place and take the guests to feel so.
Mr. Agus Ade Surya Wirawan as General Manager of ARTOTEL Sanur – Bali said, that it is an honor for ARTOTEL Sanur to be able to work with artists from another area. He expects that this exhibition will encourage society awareness in human behavior nowadays.
"We hope that My Nature Diary Part 1 Art Exhibition can make us more concerned with issues of human behavior towards the natural environment and can be enjoyed by Indonesian contemporary art lovers in Bali and especially ARTOTEL Sanur – Bali guests," he said.
This boutique hotel which has around 89 rooms is a canvas showcasing thought-provoking works by some of the most relevant Bali-based contemporary artists of today. That's why the ARTOTEL Sanur will the perfect place to hold such an exhibition.
This exhibition is open for public. You could enjoy it starting from September 9 – October 12, 2021 at ARTSPACE, ARTOTEL Sanur Bali, Jalan Kusuma Sari 1, Sanur, Bali. For more information you could contact ARTOTEL Sanur Bali on +62 361 4721000 or text them on +62 8211 0353 969. Or, send them some email to nimas@artotelindonesia.com. (*)
| | |
| --- | --- |
| Pewarta | : |
| Editor | : Khodijah Siti |